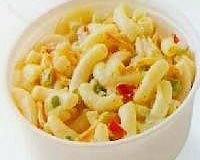 My daughter really like salad. I tried making tuna pasta salad last week and she loved it. Tuna pasta salad is a great dish for a cookout or summer gathering too. This macaroni salad is made with canned tuna, mayonnaise, and chopped vegetables.
Ingredients:
1 package (8 ounces) small shell or elbow macaroni
1 can (6 to 7 ounces) tuna, drained, flaked
1 cup mayonnaise
2 tablespoons chopped onion
1/2 cup chopped celery
1/4 cup chopped green bell pepper
1 1/2 teaspoons salt
1/4 teaspoon ground black pepper
Preparation:
Cook macaroni according to package directions. Drain and rinse well. Drain thoroughly and transfer to a large bowl. Add the tuna, mayonnaise, and onion. Mix well and cool completely; blend in remaining ingredients. Cover and chill.
Serves 6.